20 different colors and shades
Amazonian clay for blending smoothly without chalkiness
Infused with concentrated mineral pigments
It is paraben-free and gluten-free
16-color palette with 8 matte and 8 shimmer.
Blends easily with any skin type.
Infused with minerals, cucumber and calendula.
Can be used dry or wet to line and shadow eyes.
16 pigment colors for any skin complexion.
Made with high quality vegan ingredients.
Palette designed with a slim body and magnetic lid.
Well-suited colors for everyday look and party wear.
16 long-lasting pigmented shadows.
Finishes like matte, satin, shimmery and metallic.
Collection of gel, liquid and cream eyeshadows.
Cruelty-free brand as acknowledged by PETA.
35 colors and shades for all complexions.
Formulated with essential minerals and pigments.
Shades sorted into 5 rows for different types of look.
Packed with mattes, glitters, foils, satins and shimmers.
Packed with matte shades and light colors.
Buttery and easily blendable in texture.
Arranged in neutral, cool and warm color quads.
Suitable for any skin type and tone.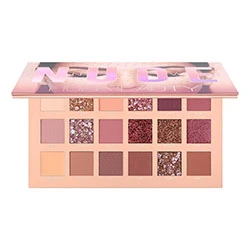 18 grids of different shades.
Different palette styles like nude, rose gold, desert dusk.
Talc-free and Fragrance-free shadows.
Formulated with coconut oil and aloe vera.
10 shadows ranging from dark to light.
Infused with Minerals and Pigments.
Well-suited shades for light and dark skins.
Cruelty-free and vegan product.
12 different colors of nudes.
Formulated with rose gold pigments.
Quads, Trios and Duos color combinations.
Paraben-free and sulphate-free product.
Smudge-free long-lasting colors.
No irritants as acknowledged by ophthalmologists.
Well-suited for soft day looks and night bold looks.
Matte, shimmer, satin and metallic palettes.